Featured Article from Principals Today Magazine; Term 1 - Issue 129
Now Hiring: Director of Distance Learning
Introducing the epitomy of job titles from 2020. The questions is: what exactly would a Director of Distance Learning do?
In late 2020, Facebook advertised a new position: Director of Remote Working. I did not apply, but the idea of a brand new type of job did intrigue me. It got me thinking about the effects of 2020 and Distance Learning.
Students: How have they coped with the demands of distance learning? What do they need in place to thrive?
Teachers: How have they coped with the demands of working from home? What do they need to help manage their work-life balance?
School Leaders: What has it been like for them? Who are they turning to for support? It makes sense that an entirely new role would be created to address these needs.
Defining a Director of Distance Learning (DDL)
A DDL would be a gifted organiser and an effective communicator. They would understand what is required of teachers and students when they are in lockdown, and know how to get the best outcomes within these constraints. Most importantly, a DDL would have a deep understanding of workflow. Workflow is the set of tasks and resources required to do a job. Let's break this down a bit further and look at what a DDL would be responsible for:
1. Task allocation
What is required daily from each teacher? What is required of students and whānau?
All schools would be required to complete roll returns during lockdowns. Most students would have curriculum specific challenges to complete—generally on a weekly basis.
2. Resource management
Does everyone have access to everything they need?
During a national lockdown, teachers and students would need numerous accounts and passwords to be set up. Students could be sent laptops and mobile internet connections. Hard packs may still be sent.
Frankly, this is a lot to deal with. It is no wonder so many of us stuggled in lockdown—we didn't have a DDL to manage our task allocation and resource managment. Instead, it became the responsibility of leaders, and, in some cases, individual teachers. In the absense of a Director of Distance Learning, there are four key areas schools should get outside support to manage digital workflows. These are described below.
---
Four Key Areas to Support Distance Learning Workflows
1. Delegate your password workload.
Resetting passwords is really not rocket science and can easily be taken care of by someone else. You might have a number of accounts (Google, Microsoft, etc.) and it may be possible to consolidate these so that students use one account to access other apps. This is what Single Sign-On (SSO) means.
Delegating password management to an IT support company is an easy way to ensure the task gets done without requiring more of your staff resources. An IT support company would be able to help with teacher password issues, and enable teachers to work with students to get them online. This all falls under Managed ICT Services and is just one of the many ways that hiring an IT company can bring you peace of mind.

2. Have someone do your IT laundry.
Providing a consistent experience on school-owned devices is important. They need to be intuitive, simple and easy to maintain. Device management tools funded by the MoE can provide restrictions to the operating system's 'back end' to ensure your devices are tidy and support costs are minimised and known. When configured correctly, a device can be secure, safe and reliable, with the freedom for the user to experience a 'front end' similar to a non-managed device. Check out the article Why schools need Mobile Device Management (MDM) solutions to learn more.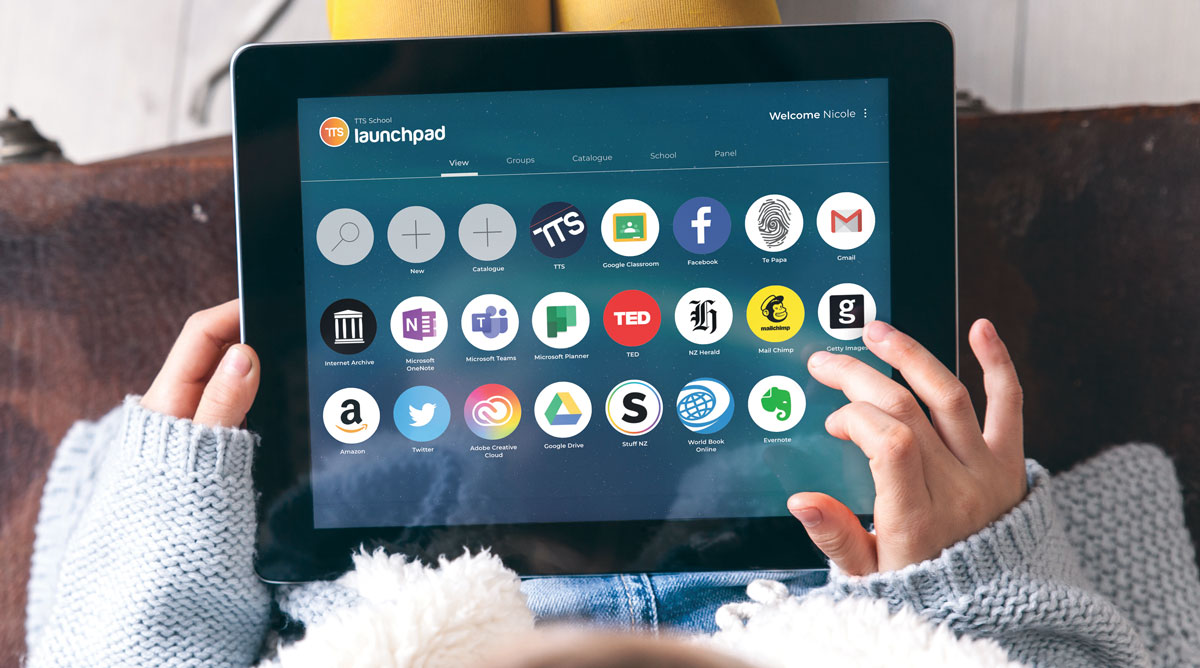 3. Utilise digital learning tools and platforms.
Use technology specifically designed to help schools easily and safely manage their online learning environments. TTS Launchpad is an example of a bookmark manager and landing page that everyone at school uses as their homepage. It has been designed specifically for education, with features and collaborative tools tailored to meet schools' needs. School leaders can build an individualised experience for students and staff members with curated app catalogues and links specifically assigned to each.
Students get to engage in digital learning with directed access to internet content. Launchpad minimises digital distractions and makes it safer and easier for a school to manage their digital environment.
Teachers have links to their SMS, policies and procedures, calendars, and other administrative matters. Launchpad also provides analytics so teachers can see if students have accessed specific resources.
School leaders are able to set up and update bookmarks across all school devices instantly. Launchpad enables schools to maintain a direct connection with all members of thier community and ensure that rain, shine or lockdown, they are always one click away.
Keen to learn more about TTS Launchpad? Get in touch with our team or click here to check out a few videos introducing Launchpad and all it has to offer from an Amin, Teacher and Student point of view.

4. Do your technical due diligence.
Technical audits are an MoE recommended, in-depth review encompassing all areas of a school's technology, including infrastructure, devices, services and software. The primary functions are to evaluate the systems that are in place and ensure they are fit to keep on performing how and when needed.
Performing regularly scheduled technical audits is the best way to ensure peace of mind. An expert can make sure that a school's technology is reliable and can be trusted. Schools should schedule a technical audit every one-to-three years and insist that their in-house tech team or IT provider is qualified to perform it. Check out the article What is a school tech audit, and why do I need one? to learn more.
Check out the full issue of Principals Today magazine here.
---
Not sure if your IT team is performing regular technical audits? Our team can help.
Get in touch and we'll schedule a time to talk to one of our IT experts.
Share: https://www.tts.co.nz/blog/Blog53/Now-Hiring-Director-of-Distance-Learning-Principals-Today-Magazine
Share Category "TTS Newsletters":
https://www.tts.co.nz/blog/BlogCategory3/TTS-Newsletters
Share Category "TTS Tech Tips":
https://www.tts.co.nz/blog/BlogCategory1/TTS-Tech-Tips
Share Category "TTS Universal Updates":
https://www.tts.co.nz/blog/BlogCategory5/TTS-Universal-Updates